New Car - Audi A4 Avant B7
2020 was supposed to be a year of adventure and wonder for my girlfriend and me. After years of saving and excitement, we left our jobs, homes, and security to backpack for as long as we could make it.
That lasted a whopping 2 months as we were forced to return to the UK as the outbreak started taking its grip on the world. It was a difficult decision to make, but ultimately the right one.
We returned home a day before my birthday. Instead of drinking chilled beers on a Thai beach as we had planned, I was spending my birthday indoors in the miserable UK, home.
No job, unable to leave home I convinced myself that a new car would drown my sorrows and give me something to concentrate on, so that's what I did.
Wasting no time, I found the car I was looking for. I went out to see it and a few hours later, had my new car parked up. It wasn't the birthday I had hoped for, but it could have been worse.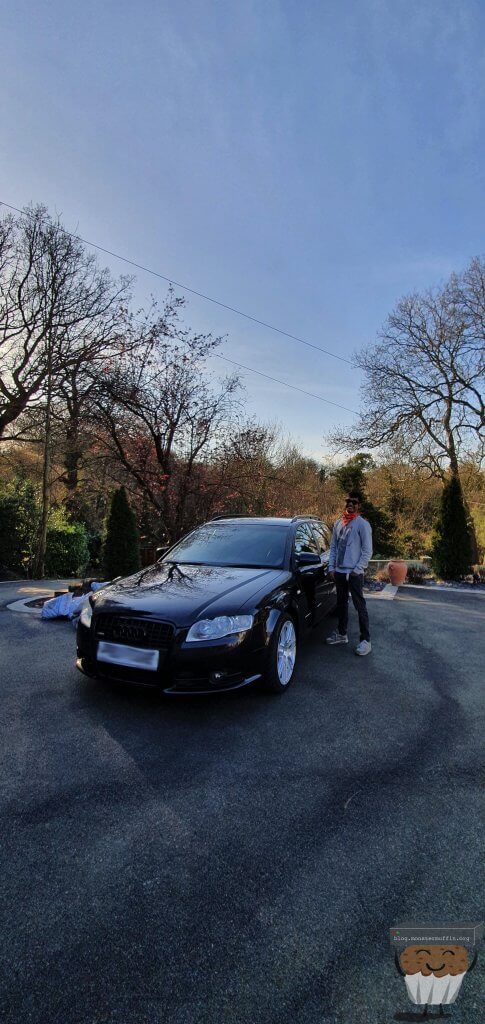 A little bit of history #
I'm a relatively new driver, at the time of writing, I've had my license for less than a year and a half. Owing to this, and the fact that I live in London, my insurance is insane. When I was shopping for my first car I had a real predicament in finding something that wasn't an absolute shitbox but also didn't destroy me on insurance, which anything did anyway.
What I ended up with was a 1L 2014 Ford Fiesta which served my girlfriend and me well. Even being a small 1-liter engine, my insurance was still **£2500.*I enjoyed the Fiesta, was a nice drive, and even at 1L, had enough power to satisfy my new thirst for speed thanks to its small turbo.
I didn't do much to the car bar changing the intake and small modifications like HID installation as I was always planning on selling it and getting something larger and faster which I would instead spend my money and this is where I have arrived with the Audi.
The Spec #
Due to my rush to get a new car, I didn't have a lot of choices when it came to spec, but I did manage to find one that had almost everything I wanted.
2008 Audi A4 Avant S-Line
Quattro w/ Torsen 50/50 differential
Full S-Line spec, not 'S-Line lite'
2.0L TDI BRD engine - 170BHP stock
18" RS4 Rims w/ alloy spare
Full leather interior
Front heated seats w/ electric lumbar support
Climatron
Multifunction Steering wheel
Full Bose sound system w/ sub
Auto lights & Auto wipers
When I bought the car it had 140k miles, which is a lot, but I did get a pretty good deal on it considering what other similar spec cars were going for and, really, if well looked after 140k isn't a lot for a diesel like this.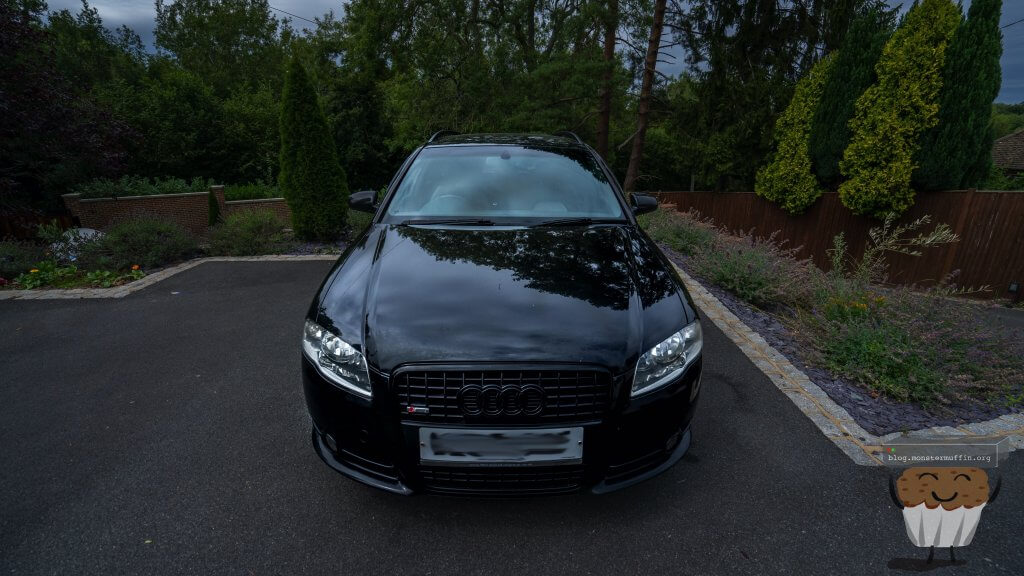 Why Diesel? #
I decided to go for a TDI as the fuel consumption for long trips is better, and we do a lot of long drives. Torque figures are also very good and with a straight map this car should get around 210BHP without modifications, and around 250BHP+ with some modifications here and there, which is more than enough for a car like this.
I was also heavily persuaded and encouraged by my good friend Tigattack as I have been following his Diesel journey and was always impressed by the power of his cars when sitting in it. Go have a look at his car shenanigans over here. He'd also persuaded me that older cars were more fun with more possibilities for modifications, previously I wouldn't have considered a car of this age but here we are.
Note: Because I've taken so long to write this post, he's gotten the same car now after wanting one for a while and enjoying mine 😎.
Maintainance #
Unfortunately, there was no service history with the car, so I've made it my mission to make sure everything is healthy and fully documented for when it's time to say goodbye.
First on my list was a complete service, including the cambelt & water pump change as well as the auxiliary belt.
I made sure to get this done as soon as possible, so within days I had someone come and help me change all these parts as well as give the car a once over once everything was opened up.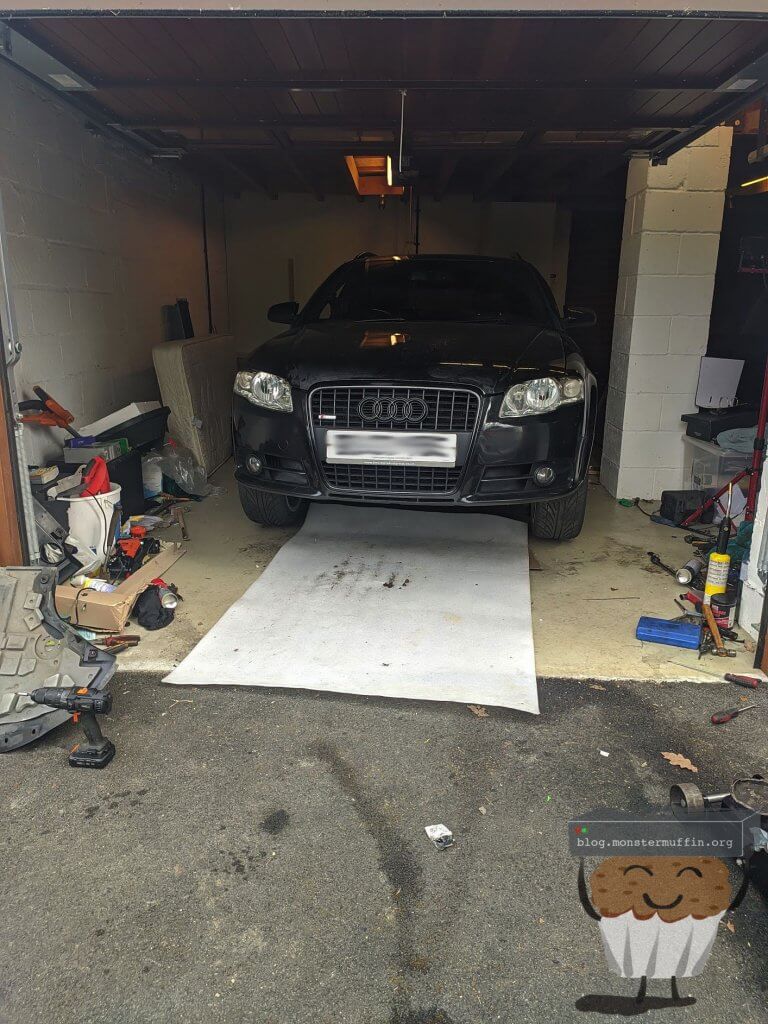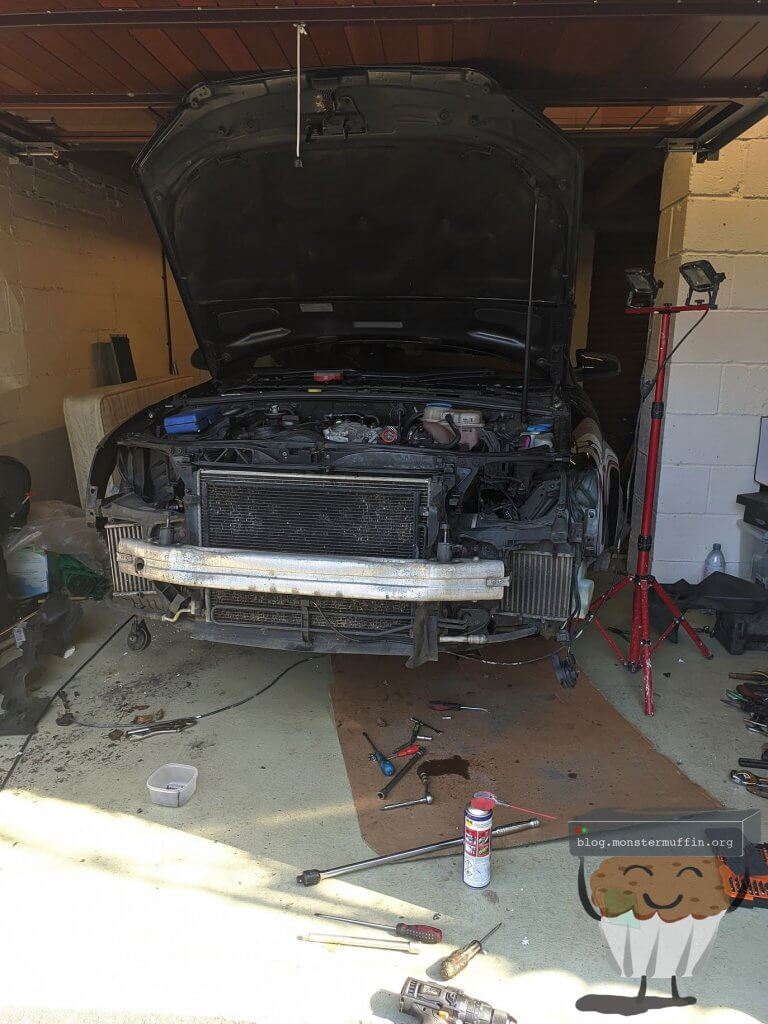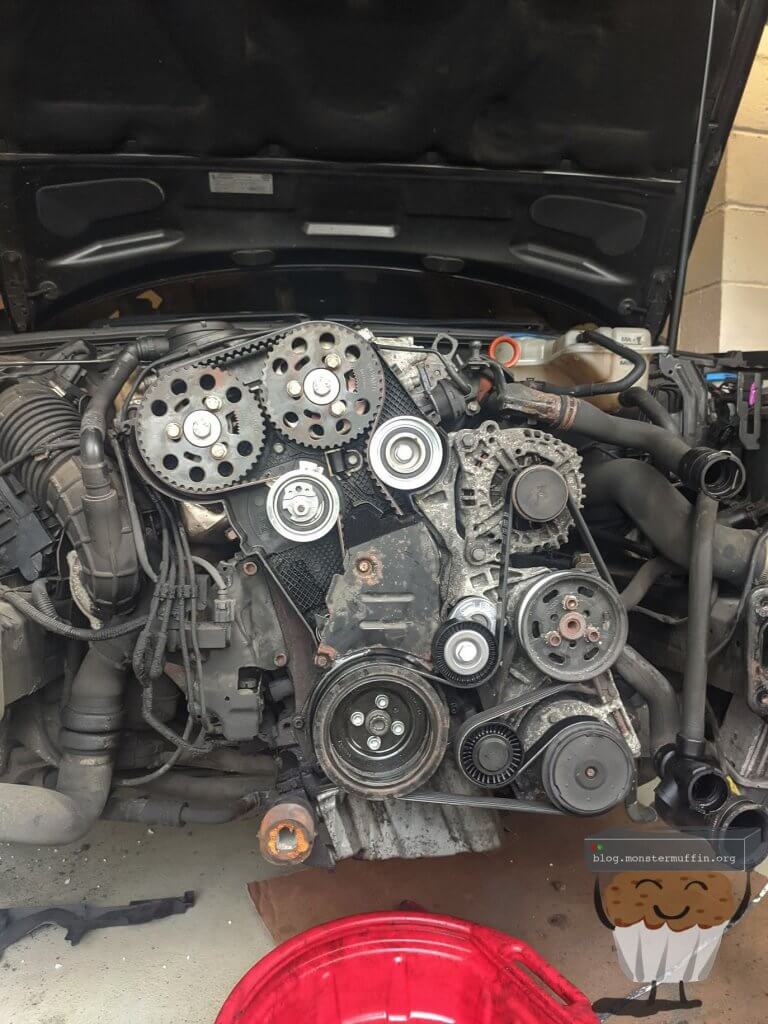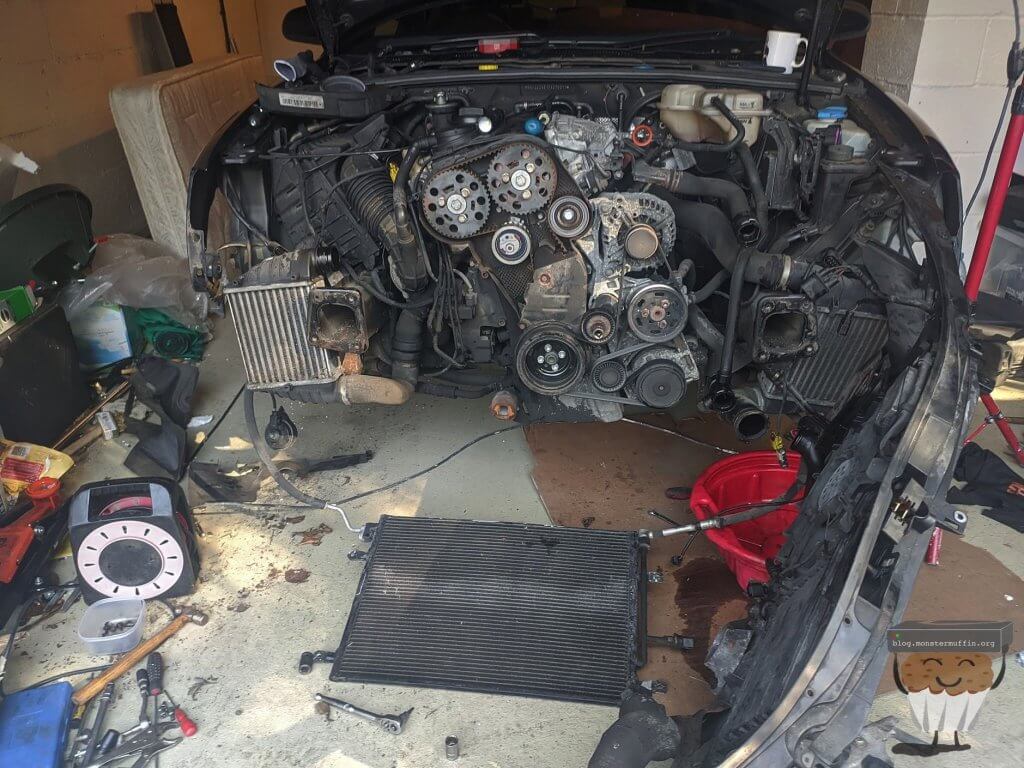 Owing to the engine's longitudinal placement the entire front end had to be removed to get to the belts. After all was done - the belts, water pump, tensioner, and one idler were changed, after which she was purring like a tractor.
Of course, the oil was flushed and changed with performance oil, and the coolant was drained and refilled so I knew what was in there, which had to be drained for the water pump in any case. After doing 5000-odd miles or so since that job, the car has performed well bar the issues coming later in this post. I've made sure to use Diesel cleaners in fuel top-ups, as well as injector, EGR & DPF cleaning additives.
Radio Woes #
One of the biggest gripes with the car right off the bat was the old head unit which didn't have any Bluetooth support. This was pretty annoying for a long time and the use of FM transceivers was driving me nuts.
The Bose speakers and amp in the car sound pretty good, so there isn't any need to change this in my eyes, but the Audi Symphony had to go.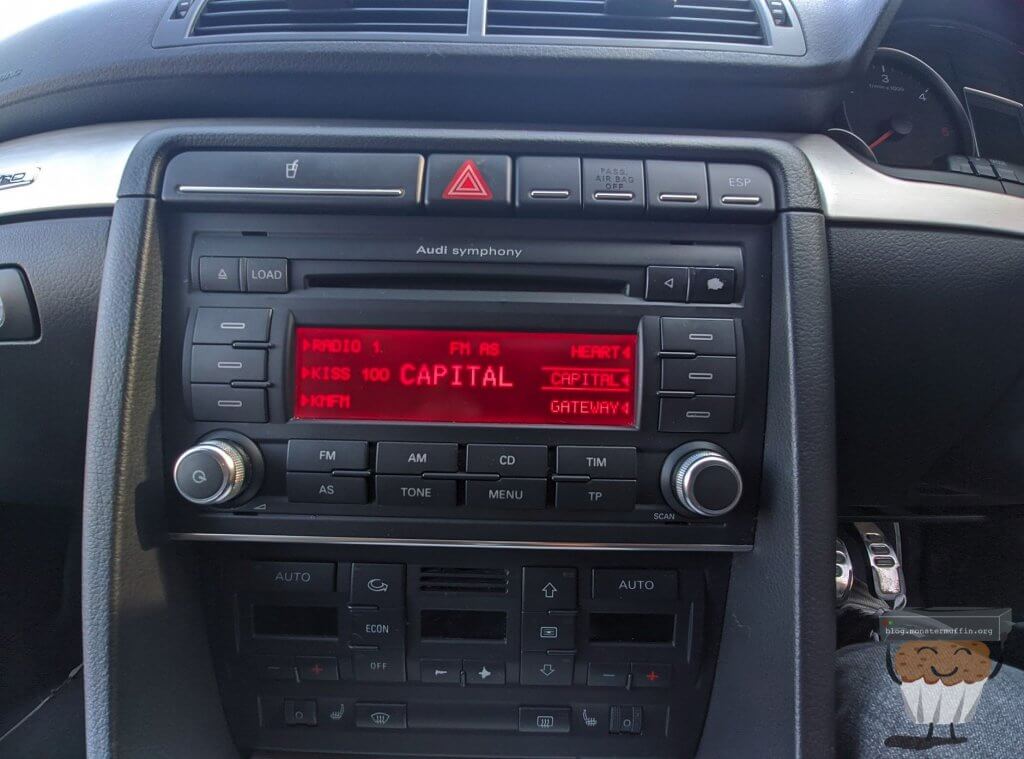 After a lot of deliberation, I decided to give an Android head unit a go instead of a branded one, as I like to tinker (see this blog…) and the functionality is far superior.
The OEM look was something that I would have ideally liked but I did want something as functional as possible, so retrofitting Linux/Android Auto into an RNS-E was still a no go for me owing to the smaller screen size.
Now, when I say Android head unit I do not mean the cheapest of the cheap Aliexpress buy, I did opt for a branded, well-reviewed unit from Amazon, namely this Pumpkin unit. One of the main reasons for choosing this particular one was that I wanted a proper volume knob.
After ordering the correct Audi 'Quadlock' to ISO connectors I installed the unit and was pretty impressed, but the speakers had awful alternator whine and when using the headlights it was impossible to ignore the high-pitched screeching through the speakers. I opted for a high to low-frequency converter instead of using the RCAs on the back of the head unit and this has worked well. Below is the finished loom for the head unit including the high-to-low converter spliced in.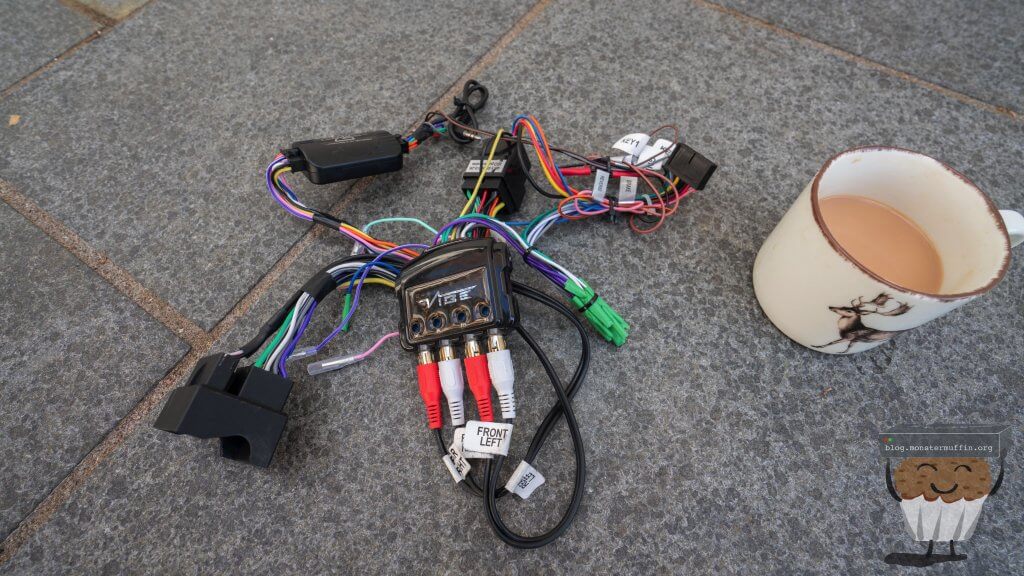 The only real issue I have with the unit is that I don't have a fitting bezel to fit around it as you can see below. This doesn't annoy me as much as it should, especially since spraying the metal cage around it black but I will eventually 3D print something to go around it, but for now I'm really happy with this setup.
Navigation like this is a lot better than having my phone on the windscreen, and since everything works with the steering wheel controls (which are fully remappable) it's turned out to be a worthwhile purchase.
The GPS antenna and microphone were run down the A-pillar with the WiFi antenna just shoved behind the dash.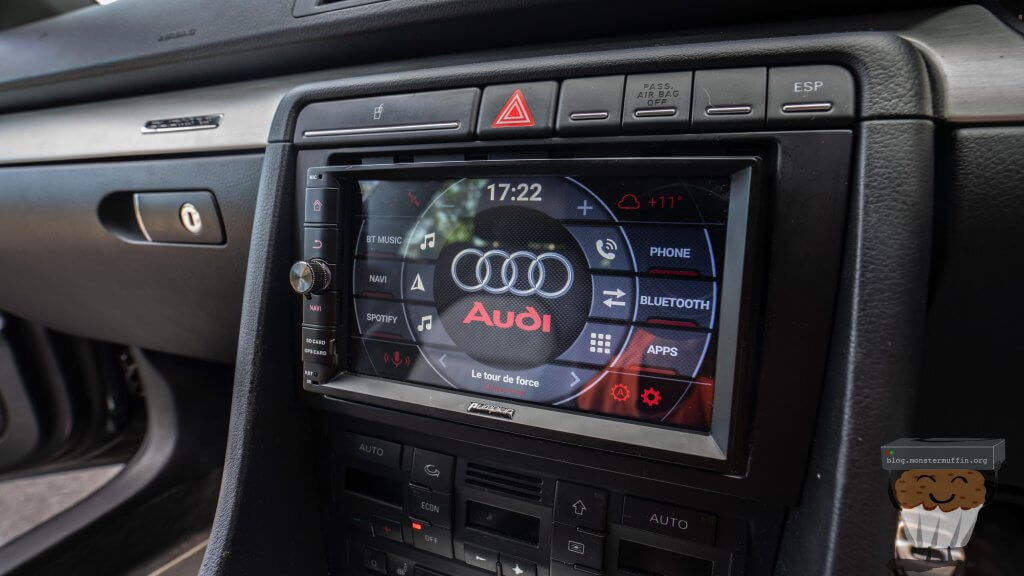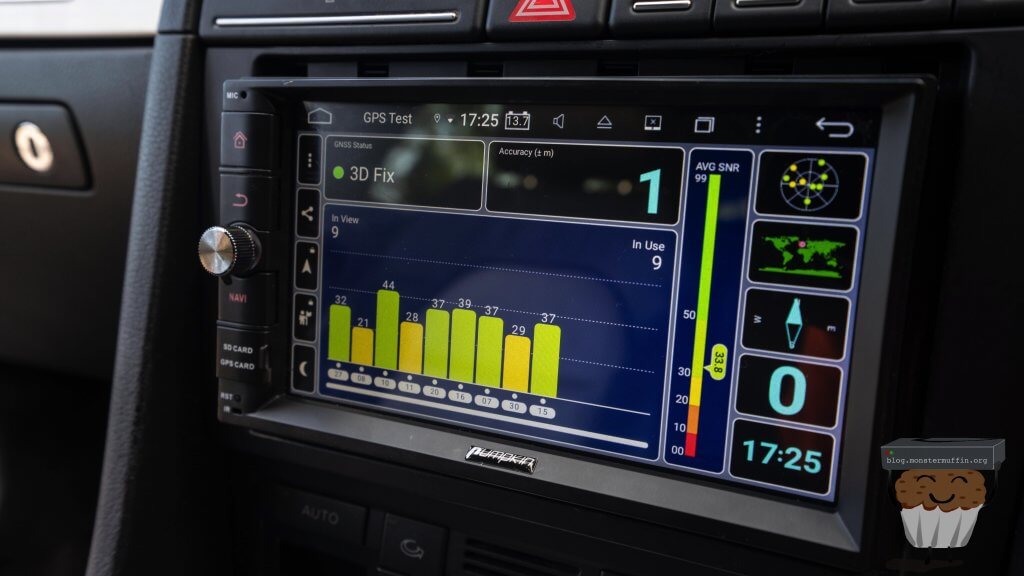 The girlfriend and I have had a fair few lunches in the car watching Plex on it too which has been very useful when on the road!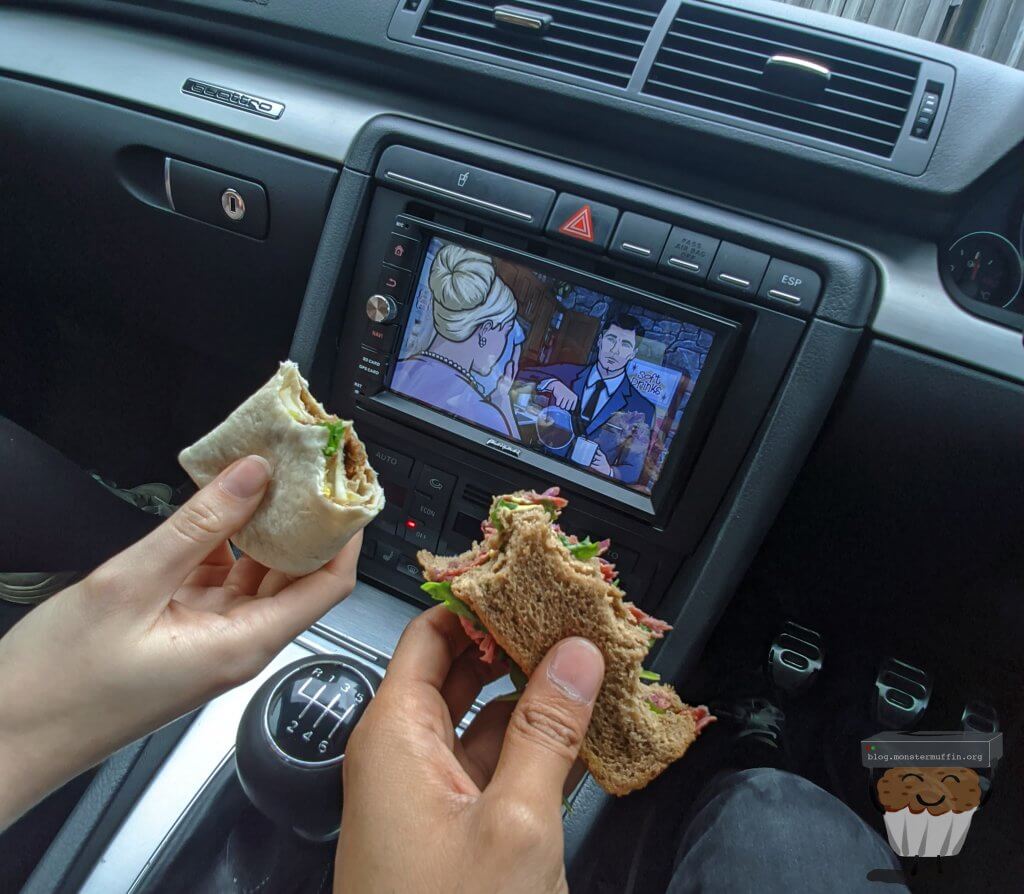 Limp Mode Is No Fun #
Unfortunately, on my first long trip the car decided to yeet itself into limp mode which was a very real experience for me. I have read a lot of people talk about limp mode as a minor inconvenience but the limp mode in this car is pretty full-on, especially when traveling at speed. The car pretty much cuts off the turbo and you lose almost all power, so cruising on the motorway becomes an impossible task, it struggled to maintain 40MPH and hills were a real struggle.
Turning the car off and on again seemed to fix the issue for a little while, sometimes enough for me to get home or a decent chunk to where I was going, sometimes it would fail instantly. I got very practiced at turning the car off on the motorway and letting the momentum turn the engine over.
After a lot of back and forth with trying to fix the issue, investigating possible boost leaks or even stuck veins in the turbo, the issue ended up being a very dead swirl flap actuator, the actuator has a rubber gasket that had completely split and was leakeing vacuum, vacuum which is shared with the turbo actuator.
This 20 GBP part ended up fixing the issue at long last.
Image courtesy of Darkside Developments.
Eventually, I plan to remove the swirl flap in its entirety using another intake manifold as they are known to cause issues.
Minor Modifications + Retrofits #
Cruise Control #
One very crucial thing that I had to retrofit immediately was cruise control. Thankfully this is as easy as buying a stalk for around 20-30 GBP; removing the steering wheel, cowling, and a few modules, installing the stalk then coding using VCDS.
The things to remove come out easily, as long as you have the right tools. Once this is done it's a piece of cake. The image below shows the last step before putting the steering wheel back on, you can see the cruise stalk on the bottom left.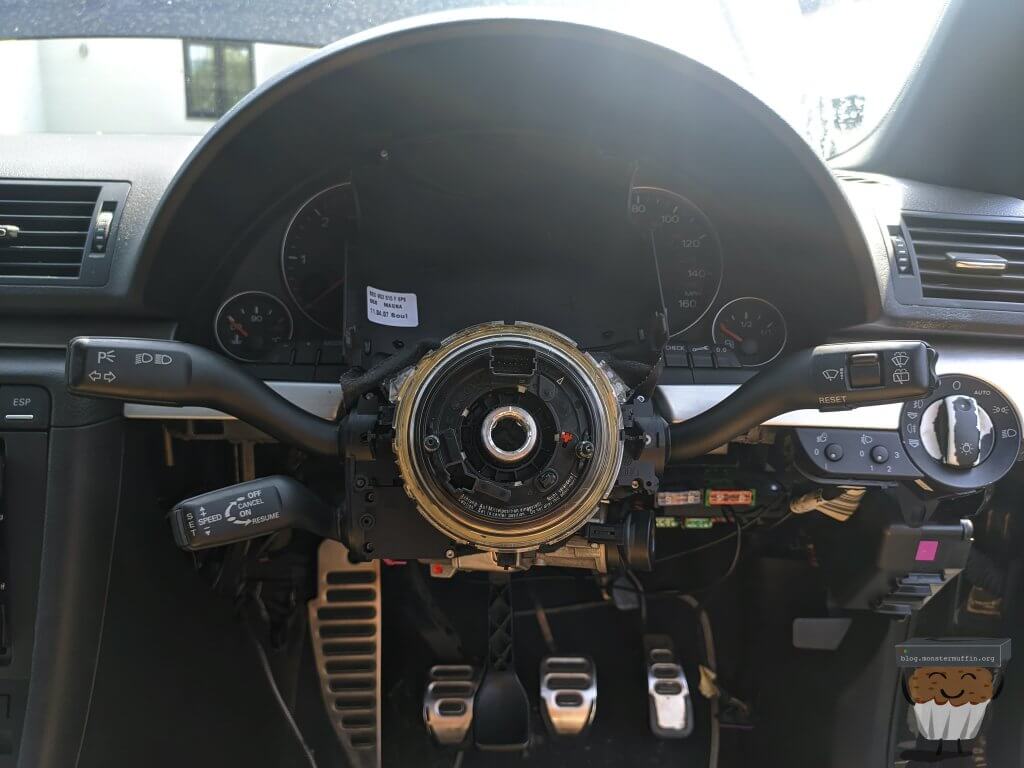 Here is how everything looks when sitting in the driver's seat.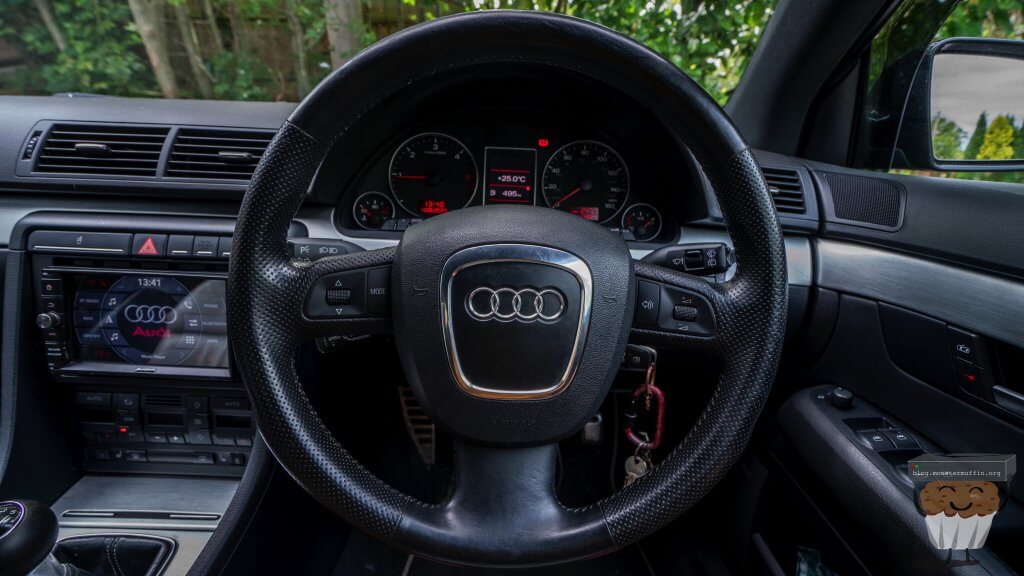 Interior LEDs. #
Of course, this is something everyone should do with their cars IMO. Changing out the horrible halogen bulbs with nice bright white LEDs was an easy job and helped with the look and usability of the car.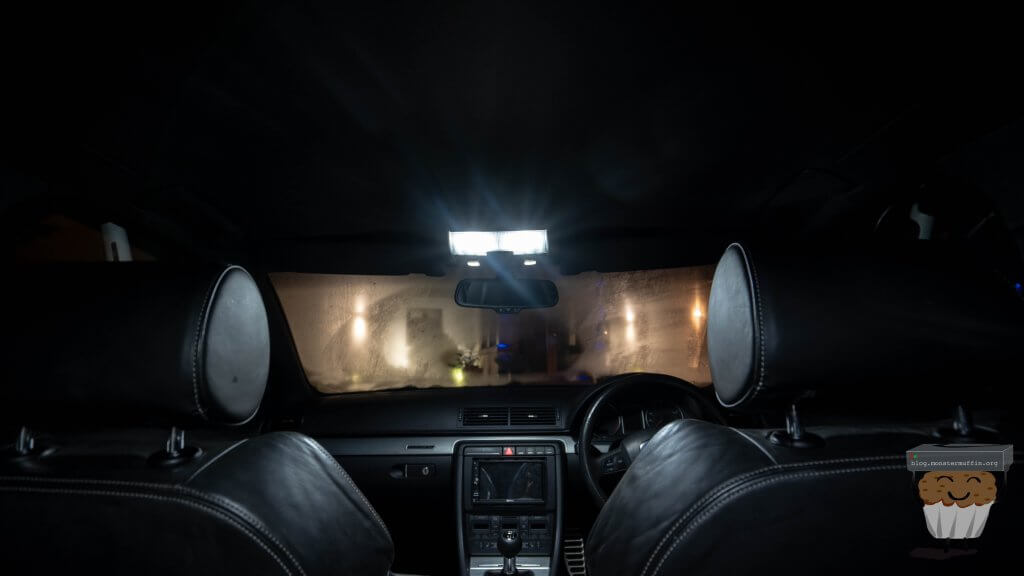 A few smaller additions I've made such as cable routing into the driver's cubby hole for keeping my phone charged and routing chargers into the glovebox, putting a microphone near the A-pillar, as well as fitting the GPS antenna for the head unit underneath. There are myriad other little things that I'm planning to do as well to make life easier and generally make the car feel newer than it is.
Wind Deflectors. #
I know some people hate them, but I think they add a lot to a car's look and also give you the ability to crack open a window at high speeds with a much-reduced noise in the cabin.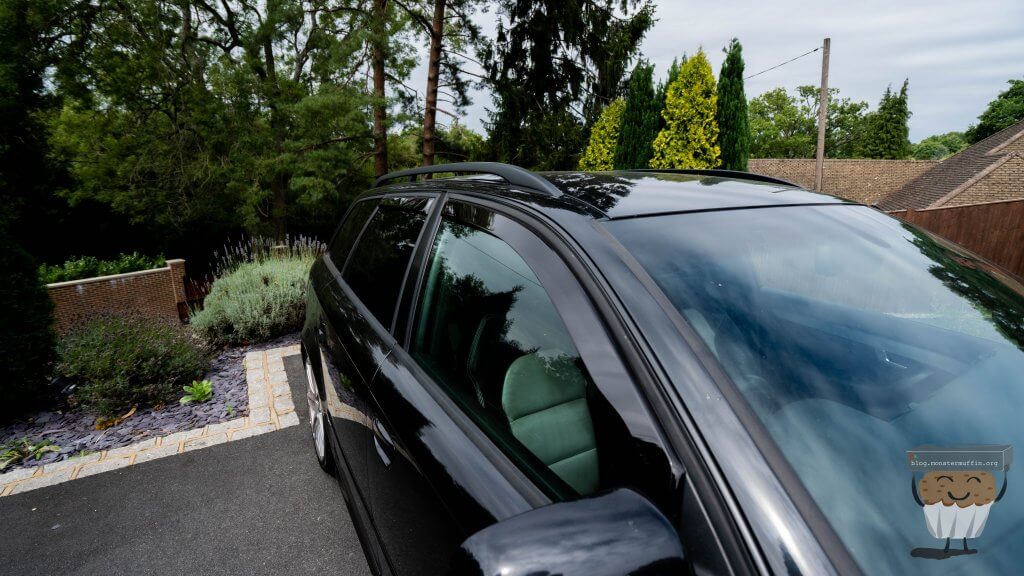 Future Plans #
I have several things I want to do to the car now that it's working and performing as it should, in a somewhat order of importance the following:
Retrofit interior lighting pack.
Retrofit folding & dimming side mirrors.
New headlights with DLRs and projectors for HIDs.
RS4 brake upgrade, same size disks but improved performance.
Calliper recondition/respray.
New suspension & lowering springs.
RS4 sway bar upgrade.
DPF + EGR Delete.
Swirl flap delete.
New turbo-back exhaust.
Hybrid Turbo.
Front mount intercooler.
Remap after the above.
Rim refurbish and possibly spray.
Fix paintwork.
Thoughts #
All in all, I'm very happy with the car and can't wait to see it slowly evolve as I fix more things and add more and more improvements.
Having an estate has been useful for transporting larger things and not having to worry about filling a small car, it's also been great to bring the seats down and have a chill with the boot open.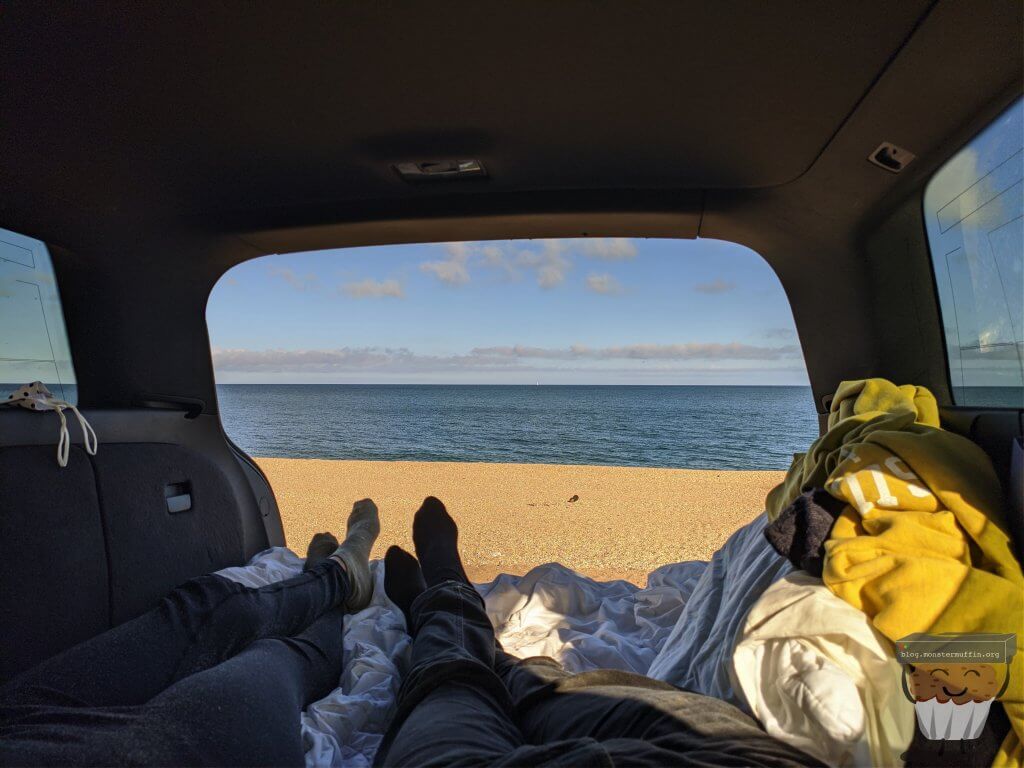 Even the dogs have much preferred their journeys to long walks.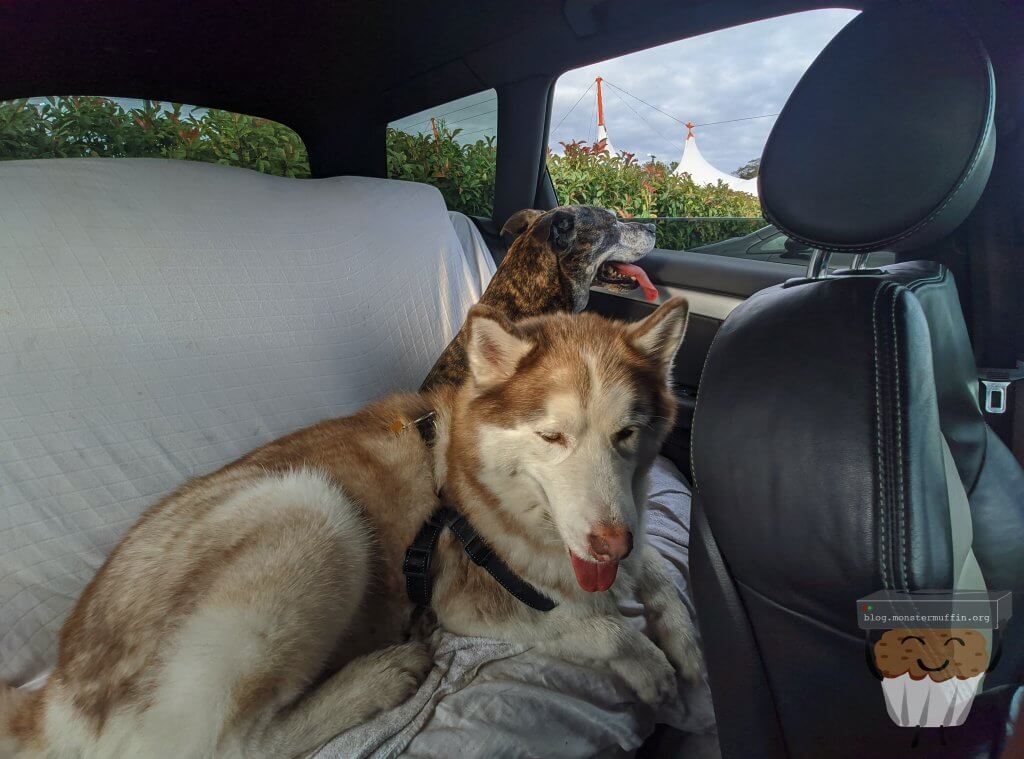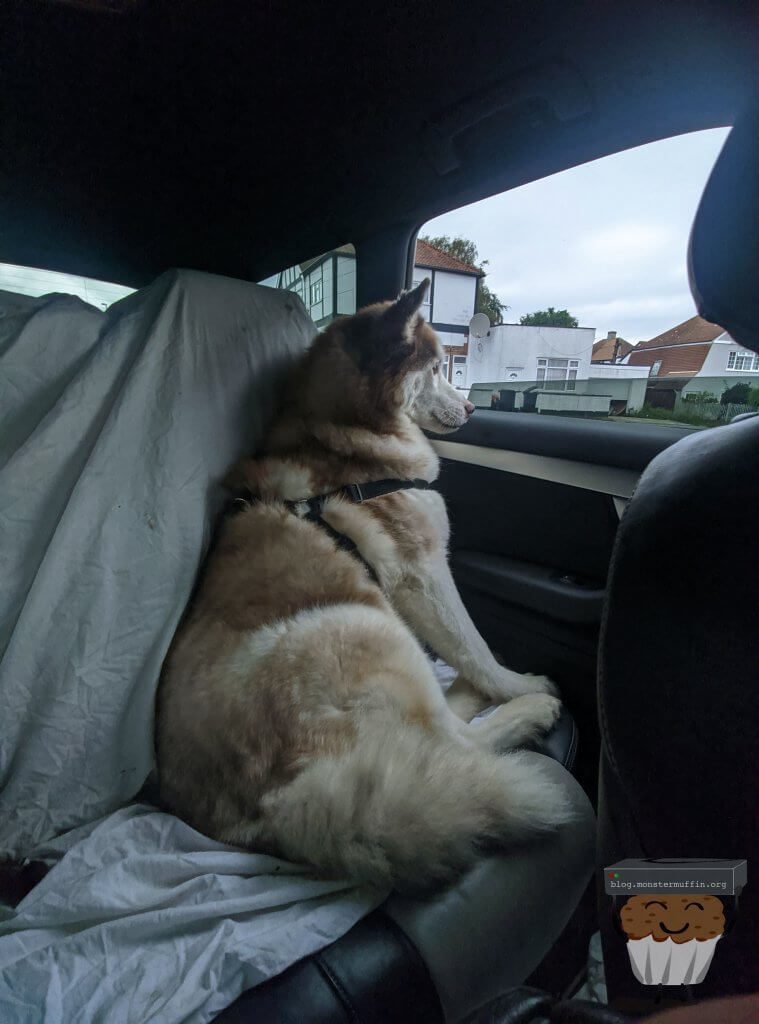 The overall look of the car is, in my opinion, really nice too without having to spend so much. It's a very good-looking car that one could be mistaken for thinking is a lot newer, which I think is perfect.
I'm sure the next time I post an update will be a long time from now so I'm hoping most of these upgrades/fixes should be implemented, so if you're interested subscribe to my blog or some shit.
Thanks for reading! ~~Muffin #